My Happy Place Car Seat Covers
Regular price

$119.99 USD

Sale price

$59.99 USD

Unit price

per
What Do You Consider A Happy Place?
For a cow lover or farm lover, there's no other place that can bring happiness than the picturesque scenery of a lush green landscape with a herd of Black and White-spotted cattle roaming and munching contentedly. While on the background are grassy hills painted on the ever-changing blue canvas of the sky patched with cotton-like clouds. Your depth of love for all these things makes you declare these words - "This is my happy place".
Your Fascination Is Our Inspiration
Cow lovers, farm lovers, animal lovers, etc., all have one thing in common: their love for nature. Each one enjoys spending time in the countryside and observing wild animals, plants, and natural landscapes. The beauties that nature offers delight these people. 
That is why here at Cowloco, we take your sentiments as an inspiration to come up with a nifty car accessory that shares the same emotion as your "Love for the herd". Nicely designed and printed with the same graphic visualization of the "Happy Place" scenery, we have crafted this set of My Happy Place Car Seat Covers. 
A Car Seat Cover That Speaks of Your Happy Place
This 2-piece set of front car seat protectors is a stylish accessory you can add to your vehicle to spice up its interior and get all that bit of zest it deserves. It will keep your car's front seats in top-notch condition by giving it protection against spills, dirt, mud, or even sweat. Keeping all of this funky stuff out of your car will make driving more enjoyable for you and your passengers as well as extending the life of the front seat's original upholstery.
If you ever thought these Car Seat Covers are only crafted for functionality and not driving comfort, the My Happy Place Car Seat Covers set will prove you wrong. These seat cover sets include two front bucket seat covers that are made from layers of durable polyester fabric as top material and breathable foam padding inside that makes the cover comfortable for everyday drives as much as for longer rides. 
Moreover, the non-slip property of the seat cover material prevents them from sliding over when you get in or out of the car. Designed for an easy-to-install DIY process, fitting these car seat covers are simple and straightforward. No special tools are needed, just slip them on directly over the seat. An extension anchor hangs from the cover and is meant to be tucked through the seat, out to the back. Two additional straps from the sides serve to secure the seat to said extension. 
These car seat covers fit universally to most sedans, crossovers, and SUVs with bucket seats without built-in armrests and airbags. If you don't have time to hand-wash these seat protectors, just throw them inside the washing machine when needed. At least,  you'll always have a fresh car interior environment to come back to.
Summing-Up, this Set of Car Seat Covers Enhances Your Daily Driving Through:
Layers of high-quality polyester micro-fiber fabric and breathable back foam padding with mesh cloth for maximum durability and riding comfort.
Add style to your car seats while protecting them from spills, stains, tearing, fading, and more.
Designed for quick and easy installation on most car and SUV front bucket style seats – no tools required.
Elastic layered fabric and the anchor fastening system ensure a snug and secure universal fit on most standard cars and SUVs.
Overall design appearance gives your car a bit of zest that will sure to match most interior themes. 
Important Notes:
Not for use on seats with integrated airbags, seatbelts, or armrests.
Please allow 7-9 Days to receive a tracking number while your order is hand-crafted, packaged, and shipped from our facility. The estimated shipping time is 2-4 weeks.
Care Instructions:
Wash covers by hand with mild detergent
Thoroughly rinse in cool water afterward
Allow to air dry properly before using again
Wipe down with a dampened cloth for a quick clean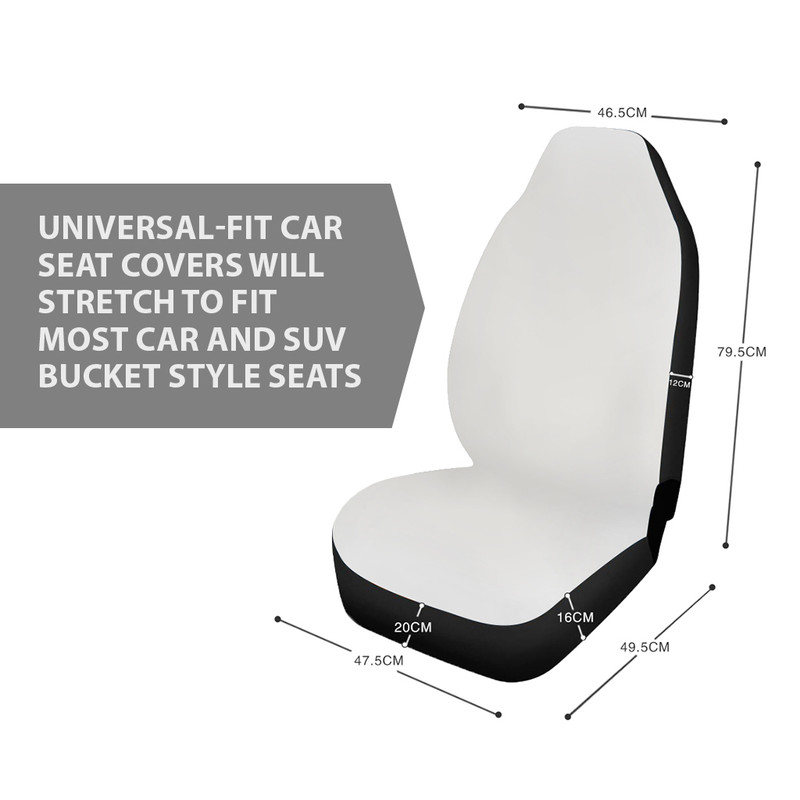 Share
Cow Loco Gift Card
Regular price

Sale price

$10.00 USD

Unit price

per
Share
View full details